Conservation International Indonesia Partners with Rascal Voyages for Eco-Tourism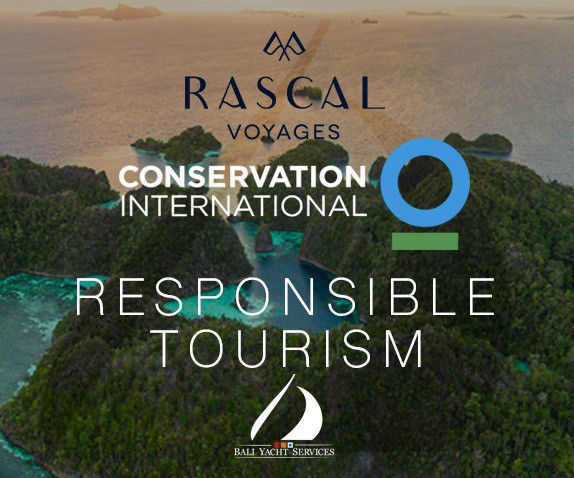 Conservation International Indonesia is launching a great initiative with Rascal Voyages to implement an eco-tourism business model that is sorely needed in Indonesia & worldwide. Not only does this raise awareness on the international stage, it sets a concrete business model for responsible tourism that is both for-profit and environmentally beneficial.
In an effort to help save and conserve the many species of marine animals, corals and microscopic organisms, Rascal Voyages partners with Conservation International Indonesia (CI Indonesia) by introducing the new Exploration Series, a scientific expeditions program led by scientists from Conservation International and its local Indonesian partners.
In a recent press release from The Jakarta Post, the partnership will be a private-charter series of voyages that will give luxury travelers the opportunity to play a part in conservation and reduce the negative impact of tourism in some of the world's most remote and protected waters.
The voyage will take guests through the Indonesian archipelago, Southeast Asia and the Indian ocean with eight itineraries available each year, including a visit to the much-coveted Raja Ampat in Papua.
Co-owner of Rascal Voyages Erik Barreto said: "The new partnership between Rascal Voyages and Conservation International follows a successful collaboration earlier this year, where we saw major scientific breakthroughs during a Rascal and CI Indonesia voyage to Raja Ampat."
Barreto went on to say that the collaboration had resulted in the discovery of new species of fish, two manta cleaning stations and proof of new drone surveying technology.
Regarding the collaboration, Mark V. Erdmann, vice president of Asia-Pacific Marine Programs for Conservation International, is said to maintain a deep personal commitment to doing whatever is necessary to ensure his children will be able to enjoy the same high-quality underwater experience.
About Rascal Voyages
At Rascal we understand that our guests are looking for authentic, money-can't-buy experiences. Come face-to-face with dragons in Komodo, snorkel alongside Manta rays, experience the warmth and diversity of the Indonesian people – these are just some highlights of our off-the-grid luxurious adventures.
We believe that the best experiences should sear the soul whilst also sustaining the stunning environment and people that help create those experiences. That's why we've teamed with CI Conservation International, a global non-profit working to safeguard the earth's precious ecosystems. Over the years, CI have helped protect more than 600 million hectares of land, marine and coastal area. Through our unique partnership with CI, we are able to offer specially curated adventures with CI teams for research or fact-finding explorations.
About Conservation International
For more than 30 years, Conservation International (CI) has been protecting nature for the benefit of all. Humanity is totally dependent on nature, and by saving nature, we're saving ourselves. To that end, Conservation International is working to build a healthier, more prosperous and more productive planet.
MISSION: Building upon a strong foundation of science, partnership and field demonstration, CI empowers societies to responsibly and sustainably care for nature, our global biodiversity, for the well-being of humanity.
VISION: We imagine a healthy, prosperous world in which societies are forever committed to caring for and valuing nature, for the long-term benefit of people and all life on Earth.