ABOUT PENIDA ISLAND - ARTICLES & BLOG POSTS
Nusa Penida is a beautiful and rugged island East of Bali. Part of Klungkung Regency it includes the neighbouring small island of Nusa Lembongan with the Badung Strait separating the island and Bali by a distance of 20km. The interior of Nusa Penida is steep undulating hills with a max altitude of 524 metres. Dryer and more barren than neighboring Bali, it has taken off in popularity in the past couple years due it's epic cliff vistas and incredible undersea life.
Nusa Penida is the largest and most exotic of the 3 Nusa islands at 200 square kilometers (roughly the size of Bali's Bukit Peninsula) which is significantly larger than the popular Nusa Lembongan and its accessible sister island, Nusa Ceningan. Due to it's rugged terrain, until now the island's natural splendor has remained unspoiled as well as its rare cultural highlights.
What would Bali be like if tourists never came? That gives you a sense of how Nusa Penida feels.
Unlike Bali, you go to Nusa Penida to explore and relax, to adapt to the slow rhythm of life here unlike the perennial bustle of modern-day Southern Bali. It is drier than the nearby island of Bali though, as it is seperated by the "Line of Wallace" and theorectical line that delineates Darwin's Theory of Evolution.
Please find some of our articles below: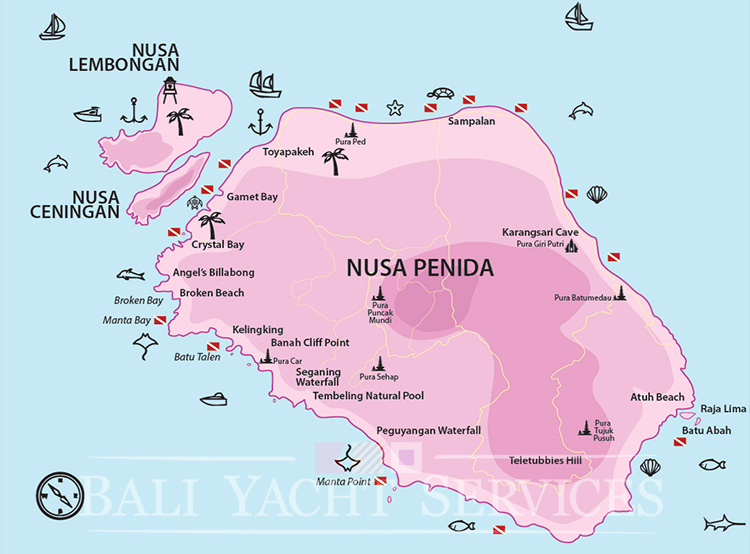 Blog Archives