Change of Tax Policy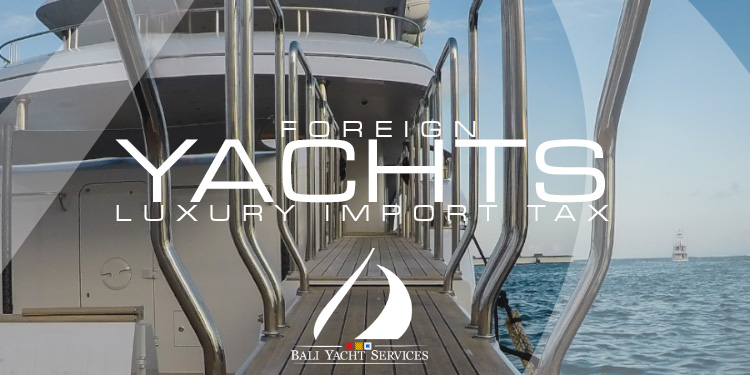 Indonesia to Abolish Luxury Import Tax on Foreign Yachts (& Increase Tax on Import Alcohol)
In July of this year 2018, Indonesia's Tourism Minister Arief Yahya revealed a proposal idea would reduce the import tax on Luxury Yachts to 0% in order to increase foreign exchange earned by tourism from yacht tourism.
Quoted by Balipost.com, Yahya said during discussions on removing luxury sales taxes for foreign yachts were held in Jakarta on Monday, July 23, 2018: "The deregulation (of the yachting sector) will ease and attract more yachts to visit Indonesia bringing more foreigners and adding to foreing exchange receipts," said Yahya.
The discussions were led by the Coordinating Minister for Maritime Affairs, Luhut Binsar Panjaitan, and attended by the head of the Investment Coordinating Board (BKPM), Thomas Trikasih Lembong, and the Director General of Customs and Excise, Heru Pambudi, where it was decided the tax deregulation for foreign yachts is needed to encourage yacht tourism and stimulate foreign exchange in Indonesia.
Actually abolishing the luxury import tax on foreign yachts in Indonesia would be a huge change in policy with far reaching consequences.
The chief of BKPM, Thomas Lembong, said President Joko Widodo supports government plans to develop maritime and yacht tourism, one part of which is to eliminate luxury import taxes for yachts. Lembong pointed to Langkawi, Malaysia and Phuket, Thailand where yacht holidays have become a holiday option for both the upper and middle classes. With yachts allowed to come and go freely in Indonesia territory, Lembong hopes deregulation will also expand to remove other unnecessary barriers posed by customs, immigration and police.
Coordinating Minister Luhut underlined that how Indonesia obtains foreign exchange needs to follow the changing times. "Let's not let (Indonesia) lose to competing destinations because our policies are not flexible amd fail to follow changing developments in the world," said Luhut.
At the Jakarta meeting a consensus was reached to to change the import tax polices for luxury yachts, saying such a change would be a "fresh wind" for Indonesia's leading economic sector of tourism.
Using rough calculations, the Minister of Tourism has estimated the benefits to be derived by the Nation from deregulating the yachting sector. "VAT on luxury yachts at a level of 75% will only earn US$80,540,000, while if the tax is eliminated the country will earn profits five times that amount or US$442,450,000," said Yahya. The Minister also estimated that a further US$350,700,000 would be earned from visiting foreign yacts paying berthing fees and maintenance costs while their ships are in Indonesia.
Part II: Attempt to Slow the Importation of Alcohol
On the other side of the new tax importation policy, Indonesian Finance Minister Sri Mulyani has made the decision to slow the importation of alcoholic beverages by increasing importation taxes (PPh Impor) applied to such products.
CNN Indonesia reported that the Ministerial Decree Number 110 of 2018 stipulates a 7.5% tax will be applied on alcoholic beverages. The increased "new" import tax will apply on wine, sake, brandy, whiskey, vodka, arak and bitters.
Category: Gov't Policy
Date: 14 Aug 2018